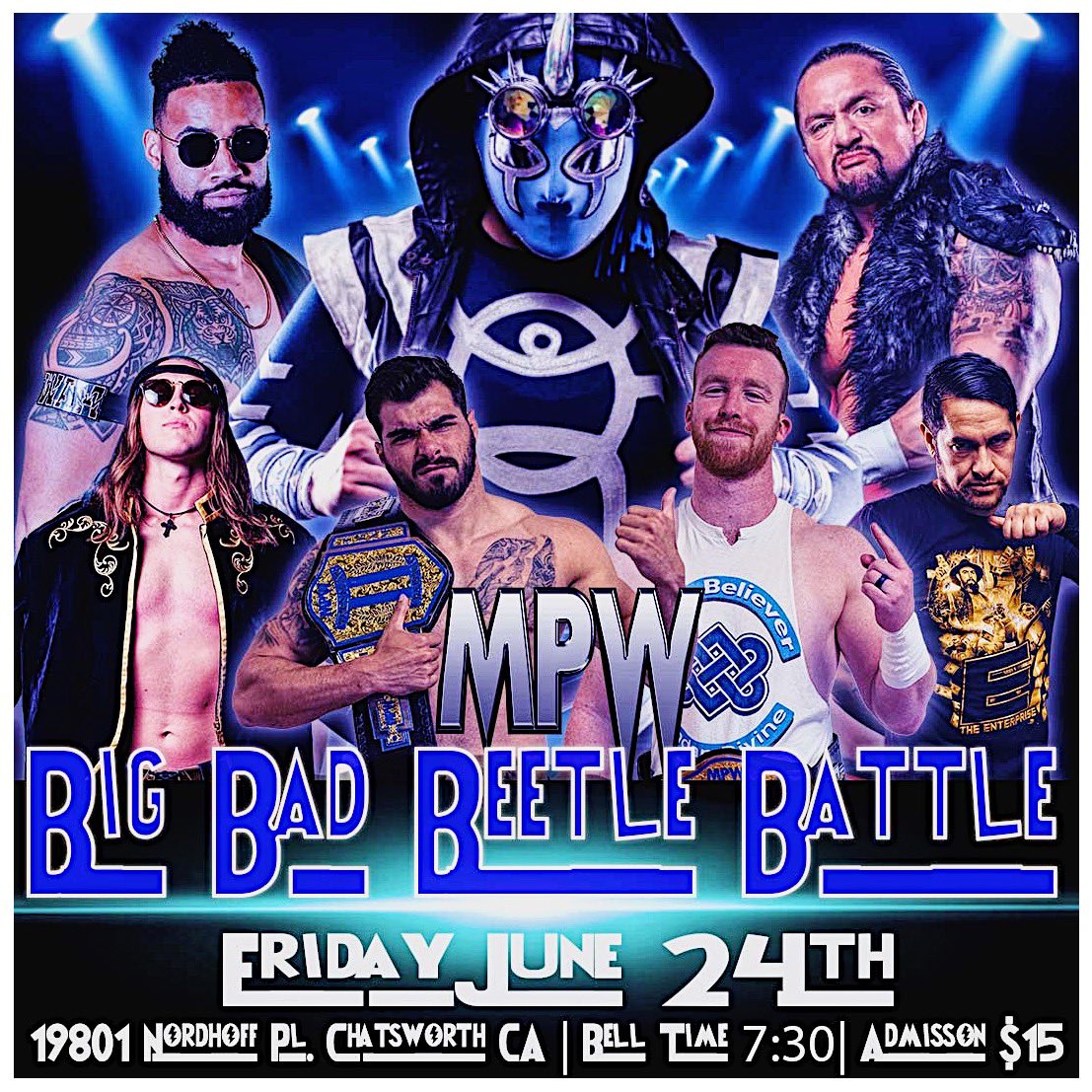 There are some bugs you just can't kill…enter Super Beetle.
After months of cutting remarks, put downs, and self aggrandizing on social media and in the ring, Robin Shaw came face to face with the subject of his ire last Friday. However, rather than face him like a champion, he ran…so Super Beetle did what any good bug would do.
He came out of retirement for a night to send a message…but, perhaps, a taste of the action may not be enough for our intrepid hero.
Is One Night Only becoming One Night For The Ages? Curious to know more? Read on, friends, and be advised that spoilers abound for MPW's Big Bad Beetle Battle. If you want to wait to see it for yourself on MPW's Youtube channel, bookmark this and use it as a companion to your viewing experience.
That said? Let's do this.
**********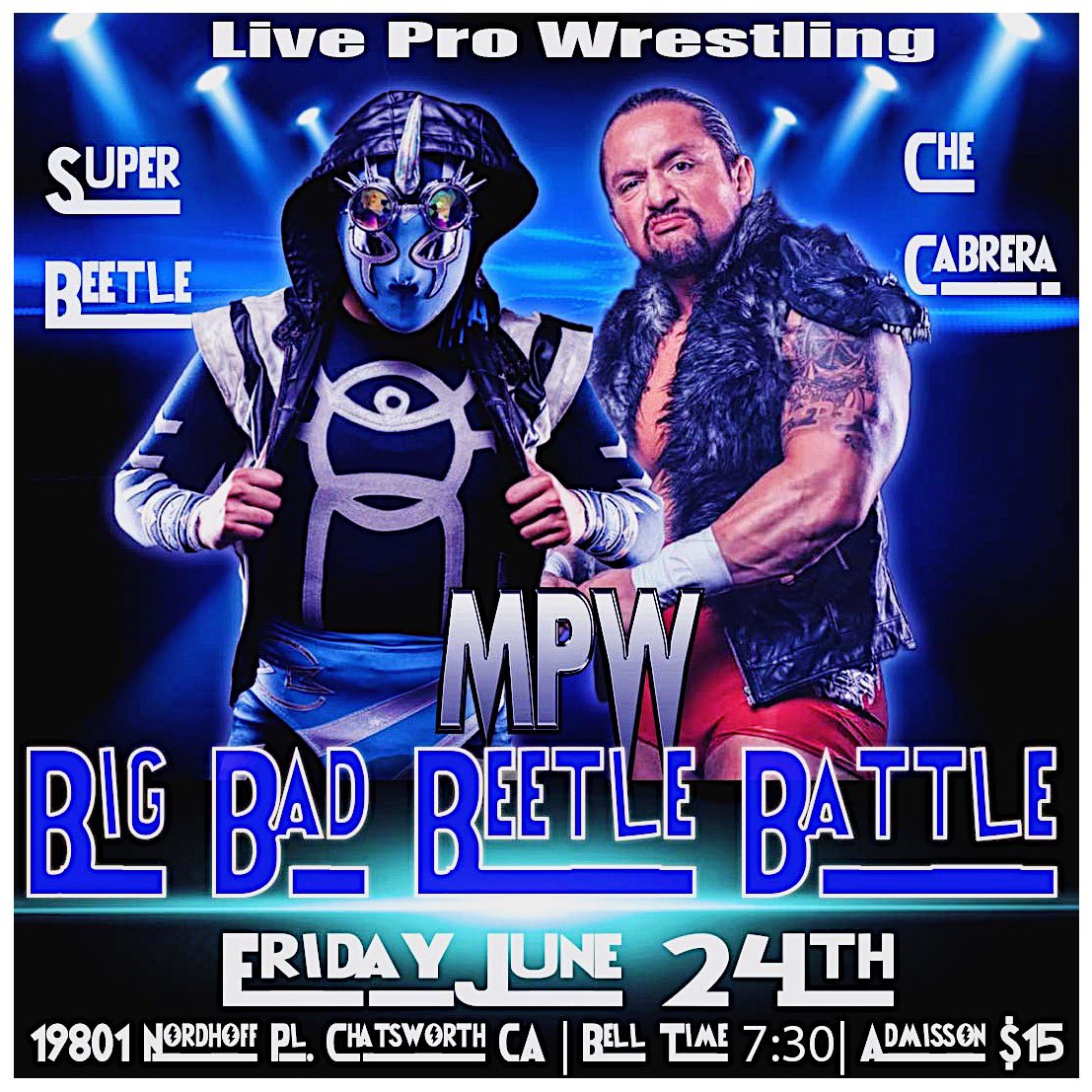 Super Beetle DEFEATS Che Cabrera
This highly anticipated match was the talk of social media in the days preceding the event. Serving as the kickoff for this action packed spectacular, Cabrera came to the ring with the usual unceremonious chorus of jeers his bad attitude usually elicits. Strangely fitting in blue gear, he waited for his opponent as the MPW arena buzzed with anticipation.
Familiar strains of entrance music began to play, the beat of "Blue (Da Ba Dee)" by Eiffel 65 filling the arena…only to be cut short by the voice of Super Beetle himself. He had other ideas, a fresh sound for his grand return…
To the upbeat synth of Tevin Cambell's I2I, Super Beetle returned to the ring with all the energy and enthusiasm longtime fans of MPW remembered. Spirits were high, and all present were anything but blue as a rousing chorus of "welcome back" chants filled the air to embrace MPW's prodigal son.
…to which Cabrera clearly took umbrage, grabbing a mic to thank the crowd for welcoming him back instead. As he put it, he'd been gone two months after being sick — allegedly — but made a poor show of trying to steal the Best Bug's thunder.
He did, however, publicly admit to following this reporter on social media, so shout out to Che Cabrera! It's always wonderful to interact with our fans.
The match that followed was what one would expect. Cabrera took full advantage of his size and strength to manhandle Beetle, who made a great early showing but was at a clear disadvantage throughout the match. Cabrera is big, he's mean, and he's relentless — there was no way Beetle could overcome that.
However, that's what heroes do — and Beetle remains the hero that MPW needs and deserves.
Enough cannot be said about Super Beetle's performance in the ring. Though we have not seen him in action for roughly two years, nary a speck of ring rust could be seen as he took on the behemoth of Latino Meat, and went on to prevail with a lightning quick roll up to score a pinfall victory. With Cabrera felled, Beetle got the mic for himself and handled the main point of his appearance: calling Robin Shaw out.
Shaw came, but not without reinforcements. The National Champion and self-professed* North American Champion, accompanied by Jeff Roth and Cameron August, faced off with Super Beetle and renounced all ties with the Toku Titan. Though Shaw and Beetle once worked together and bonded as the Friendship Farm, Shaw wrote off Beetle and their previous relationship, claiming that money and power had become all he needed to survive in this business — and swore he would never face Super Beetle in the ring.
More than one person had something to say about this. Beetle, to his credit, admitted that his appearance was to be a one off showing…but as badly as Shaw wanted to distance himself from Beetle, the Best Bug was unwilling to let that happen. Confirming that he was officially back as an active member of the MPW roster, he was ready to go.
…and then Bryan Carter showed up.
While this might usually be bad news, given the numerous controversial decisions of MPW's general manager in the past, on this night Carter was on the crowd's side — nearly. Infuriated by Shaw's insistence on dictating who he would and would not wrestle — and, likely, by Shaw's constant harassment with regards to the illegitimate North American title — Carter declared that Shaw would face Super Beetle…in a six man tag match next week at MPW's Star Spangled. Shaw's partners were set as The Menace Leo Canedo and J2 Mattioli, while Beetle's partners would be former National champion Bucio and the Rebel Storm. This match has some heavy implications not merely with Beetle and Shaw, but with the Thunder Wonder and the man formerly known as the Playmaker…and that, gentle readers, is a situation we shall discuss a little later on.
With a few departing words — and crowning the latest Bozo of the Week (with last week's inaugural Bozo being none other than this intrepid reporter) — Carter left the ringside area, with the entire crowd buzzing with anticipation of next week's incredible confrontation.
*The general manager, board of directors, and media outlets covering Millennium Pro Wrestling do not recognize the North American belt as a sanctioned championship title.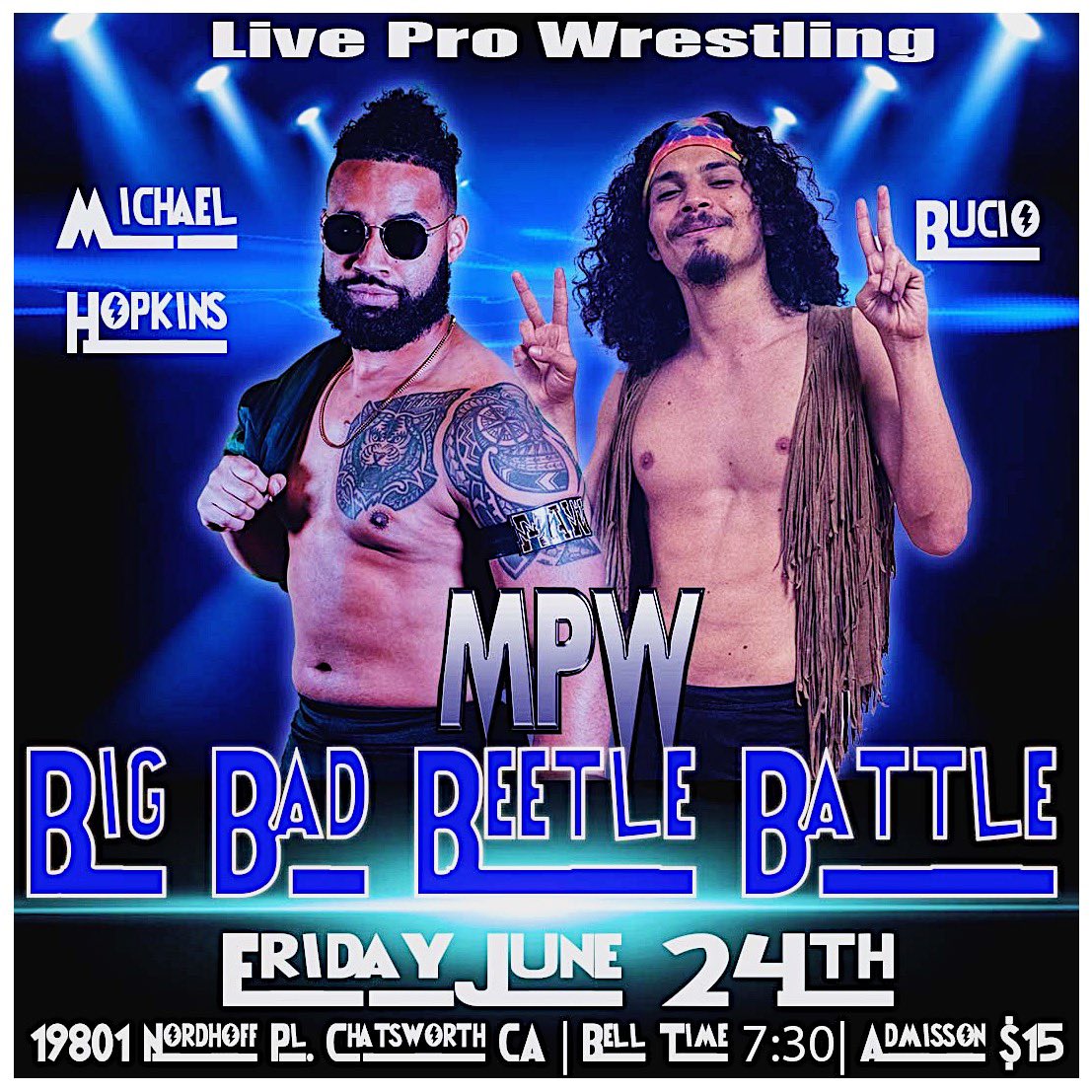 M.A.W. Michael Hopkins DEFEATS Bucio
Entering the arena to a boisterous chant of "Goodwill Drip" from some overenthusiastic fans, Hopkins was riled up early on by the disdain of the fans, made worse by the presence of his manager, TPG Bryan Carter. Bucio received his usual warm welcome from the crowd, and as the referee delivered instructions to the competitors sank into his usual meditative state atop the turnbuckle to prepare for his match.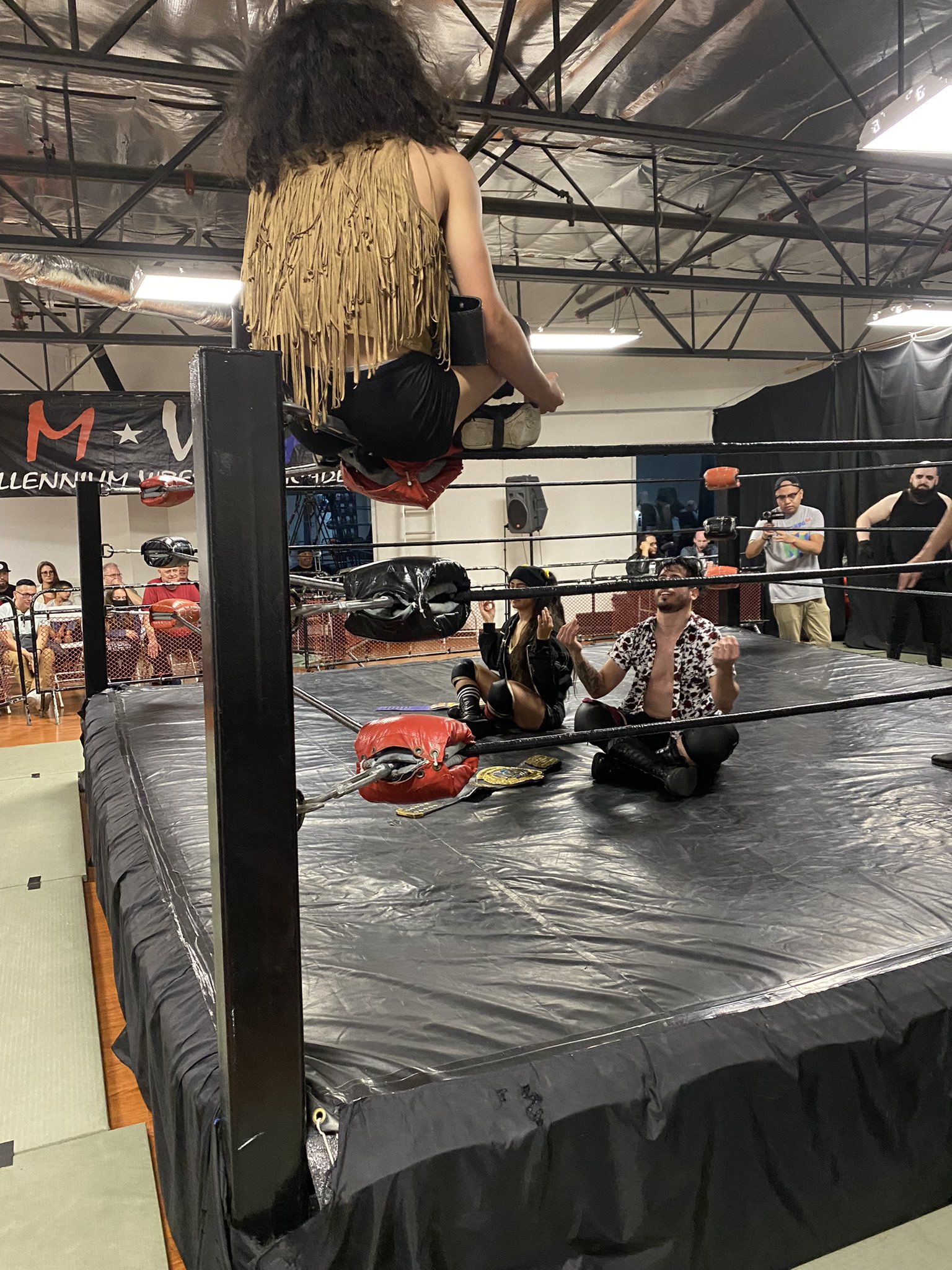 The contest, as expected, was subject to no small measure of shenanigans from the camp of Hopkins and Carter. With his manager berating Bucio and fans alike at ringside, and Hopkins employing his trusty scooter to aid in assaults at ringside, it was an uphill battle for Bucio every step of the way. While he managed to gain the upper hand more than once, in the end it started, and ended, as a two on one fight.
Thanks to the overwhelming odds, Bucio was left in the middle of the ring, and Hopkins gained a pinfall victory. However, that wasn't sufficient for the self-proclaimed Main Attraction Wrestler, and a post-match attack on Bucio ensued. The assault was so brutal, one who hadn't witnessed the action might have thought it was a post loss temper tantrum rather than a "victory celebration." Despite his status as general manager, of course, Carter did nothing to discourage the behavior of his client and joined him in leaving the ring, flush with the triumph of an ill-gotten win.
Though battered, Bucio was not altogether beaten — it's grim, going into such a huge match next week with a loss under his belt, but the positive energy constantly radiated by MPW's resident guru is sure to lift him up come Star Spangled. After all, teamed with MPW's Best Bug and the walking maelstrom that is the Rebel Storm, how could the forecast be anything but bright?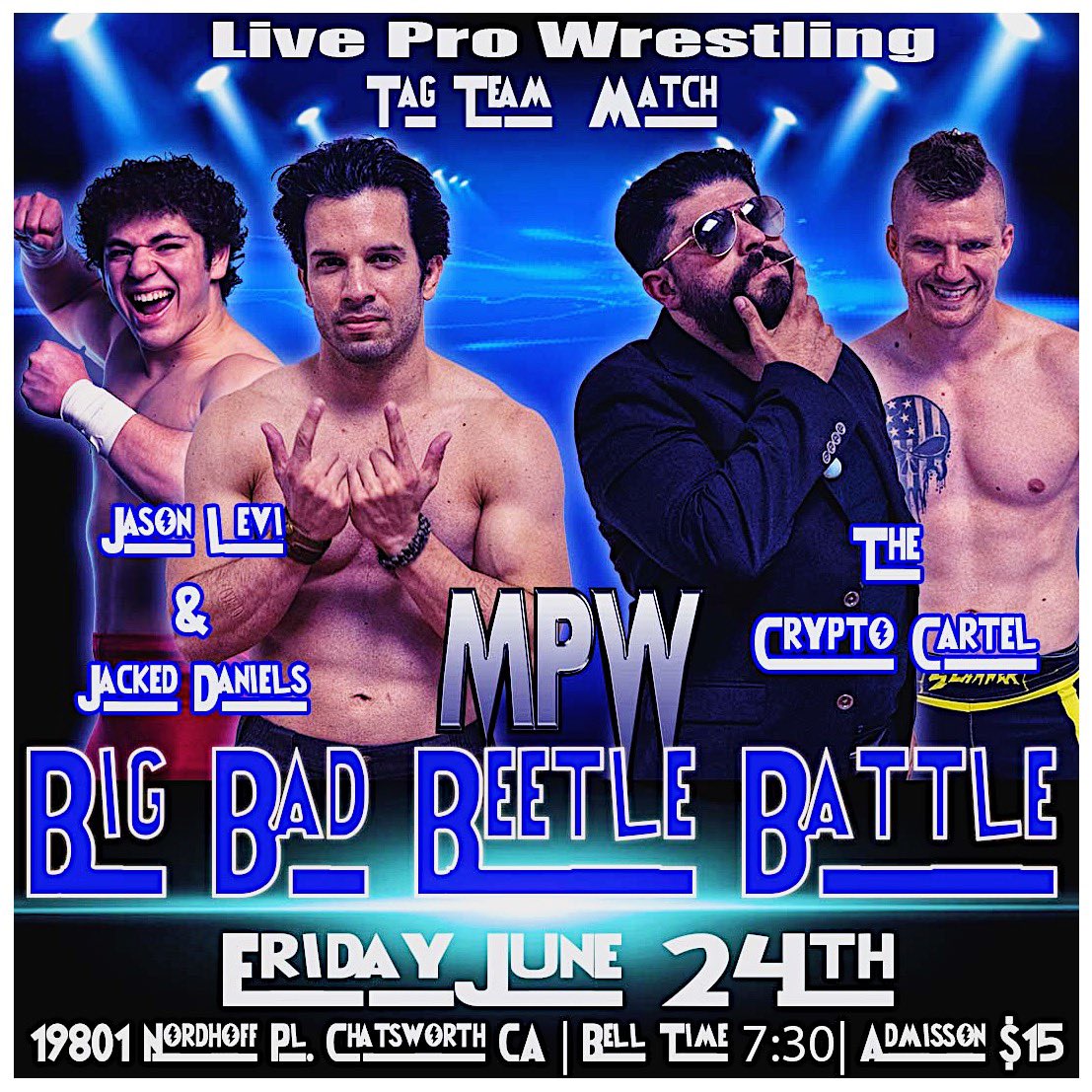 The Crypto Cartel (Alejandro Mauricio Fernandez/Jack Slammer DEFEAT Jason Levi/Dustin "Jacked" Daniels
This was a pairing doomed to fail from the start as the arrogant Daniels and the upbeat Levi took to the ring opposite their mirror images: Alejandro Mauricio Fernandez and Jack Slammer. In this team, Fernandez is the experienced athlete while Slammer is still quite green, his debut match having taken place at Face Your Fears on June 3rd.
Fernandez and Slammer served as the antithesis of Levi and Daniels, a solidly bonded team whereas Levi was at the mercy of his partner's renegade ego. Refusing to let Levi start, Daniels relented then blind tagged himself in leaving Slammer and Daniels to square off.
Instead of fighting, however, the two avid strength trainers were soon engaged in what can only be described as a mutual admiration society. Testing their strength, posing, and complimenting each other's physique, it seemed unlikely the action would ever start until Daniels finally seemed to remember he was in a wrestling match. Faking out Slammer with further ego-stroking, Daniels finally locked up to get the match underway.
As the saying goes, a stopped clock is right twice a day, and that clever showing was the clock's last recorded time. The minutes continued to pass, and time fell out of alignment with the broken instrument as Levi was soon tagged in and left to the wolves. Battered by the Crypto Cartel, Daniels eventually lost the match for the team with his constant posing and posturing, allowing Fernandez to pick up a pinfall victory over the mincemeat Levi.
The booking decision was absolutely baffling, and the outcome clearly written on the wall — one is left to wonder what general manager Bryan Carter was thinking in signing this one. We can only hope that Levi doesn't become embittered by this needless trial by fire, as there are forces within MPW that love to take advantage of personal weakness to corrupt the good souls in their midst…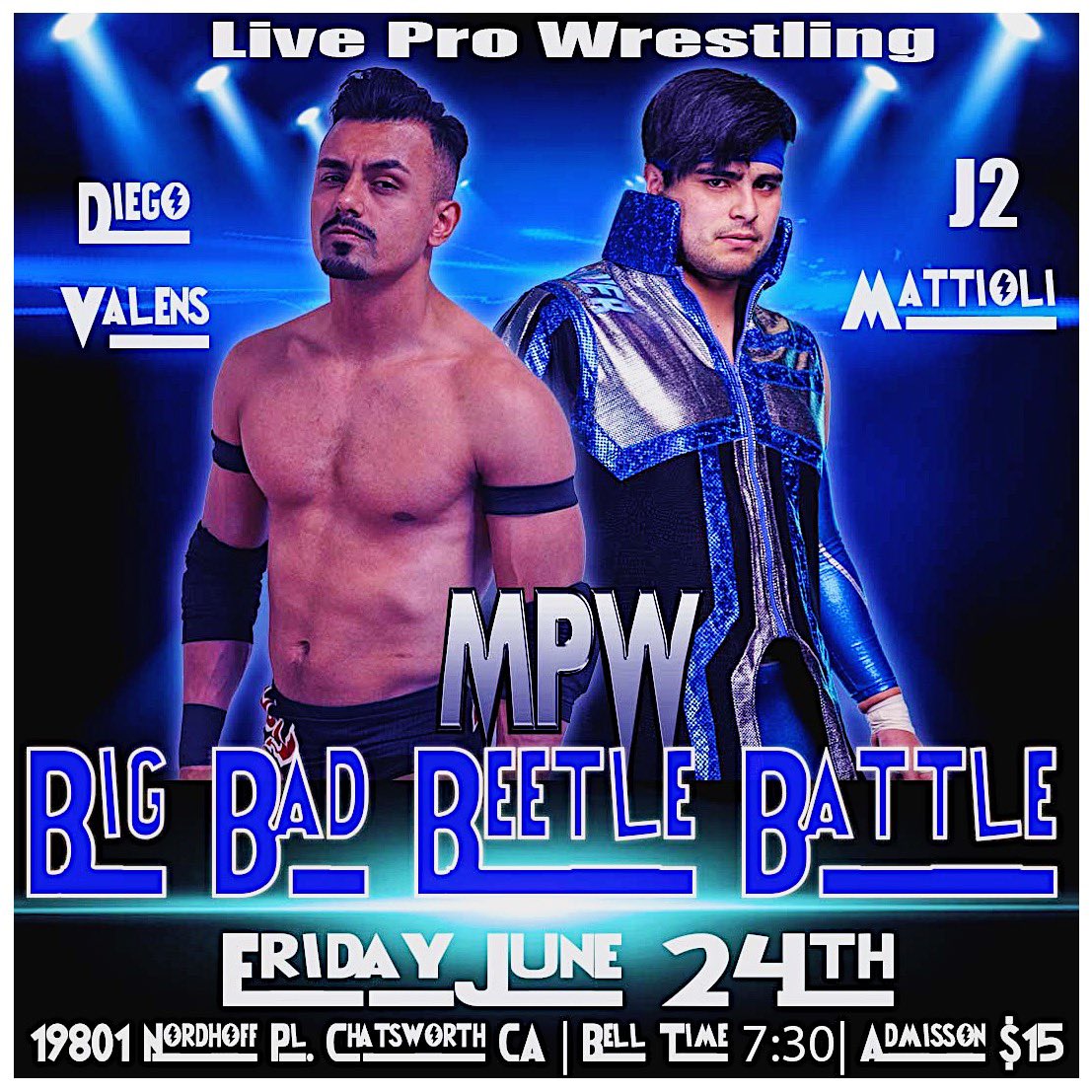 J2 Mattioli DEFEATS Diego Valens
During last week's Summerfest, the professional wrestling world was rocked by the unexpected betrayal of J2 as he assaulted his former partner and best friend, Rebel Storm, after their loss to the Enterprise's Jeff Roth and Enterprise ally Leo Canedo. All week, the public outcry for answers has been deafening, and the response from J2 was brief, but gave us all hope: he would deliver an answer at Big Bad Beetle Battle. Perhaps, if nothing else, it would provide some insight, some explanation — some way to make sense of his otherwise horrific actions.
As many questions as everyone had, there were still more after the Handsome Devil made his entrance to the ring — and the lights immediately went out. In the hallowed halls of MPW, such an unexpected occurrence never bodes well, for it so often precedes the appearance of a threat that lurks constantly on the fringes, a threat greater than darkness…the threat of the Void.
However, when the lights returned…what the MPW audience saw was something that was, quite possibly, far more shocking.
More than just a new color scheme to his gear, J2 was sporting an aura that was downright malevolent as he made his way to the ring. The stark red and black of his attire, the immaculate tie and jacket he wore to the ring…all of it spoke to calculation, premeditation. The sharp mind of one of Southern California wrestling's most gifted strategists was no longer an instrument designed for victory, but a weapon honed to a deadly edge.
Over the course of the match he had with a battered and beaten Diego Valens — barely recovered from his five star worthy ladder match with Miggy Rose the week before — J2 did exactly that. Taking full advantage of the taped up midsection and bandaged arm, he tore Valens to bits before delivering the killing blow that cemented a decisive pinfall victory.
This predator, this malicious hitman in the ring? This was not the Playmaker the fans knew and loved. Soon, as he took the mic, that became far more clear as he finally delivered an explanation for his betrayal of friend and protege, the Rebel Storm.
For his actions, his choice…he blamed the fans.
Mic in hand, J2 explained that he'd heard from far too many denizens of the MPW Arena that he'd been more successful, more skilled, a better performer when he'd been a slave to the power of the Void. Beaten down by such remarks, at least by his own accounting, he gave in to his own inner darkness and made the decision to embrace the ruthless streak the Void had brought out in him. Truly, we have seen since his liberation from their control: greater resilience, greater strength. Perhaps the Void truly did this to him — perhaps, in the end, there is no escape from its corrupting influence.
Or, perhaps, in the end, J2 Mattioli is a better performer than we all gave him credit for…perhaps this is his true face, and he just fooled us all into believing that the friend Rebel Storm sough to rescue was the real J2 all along.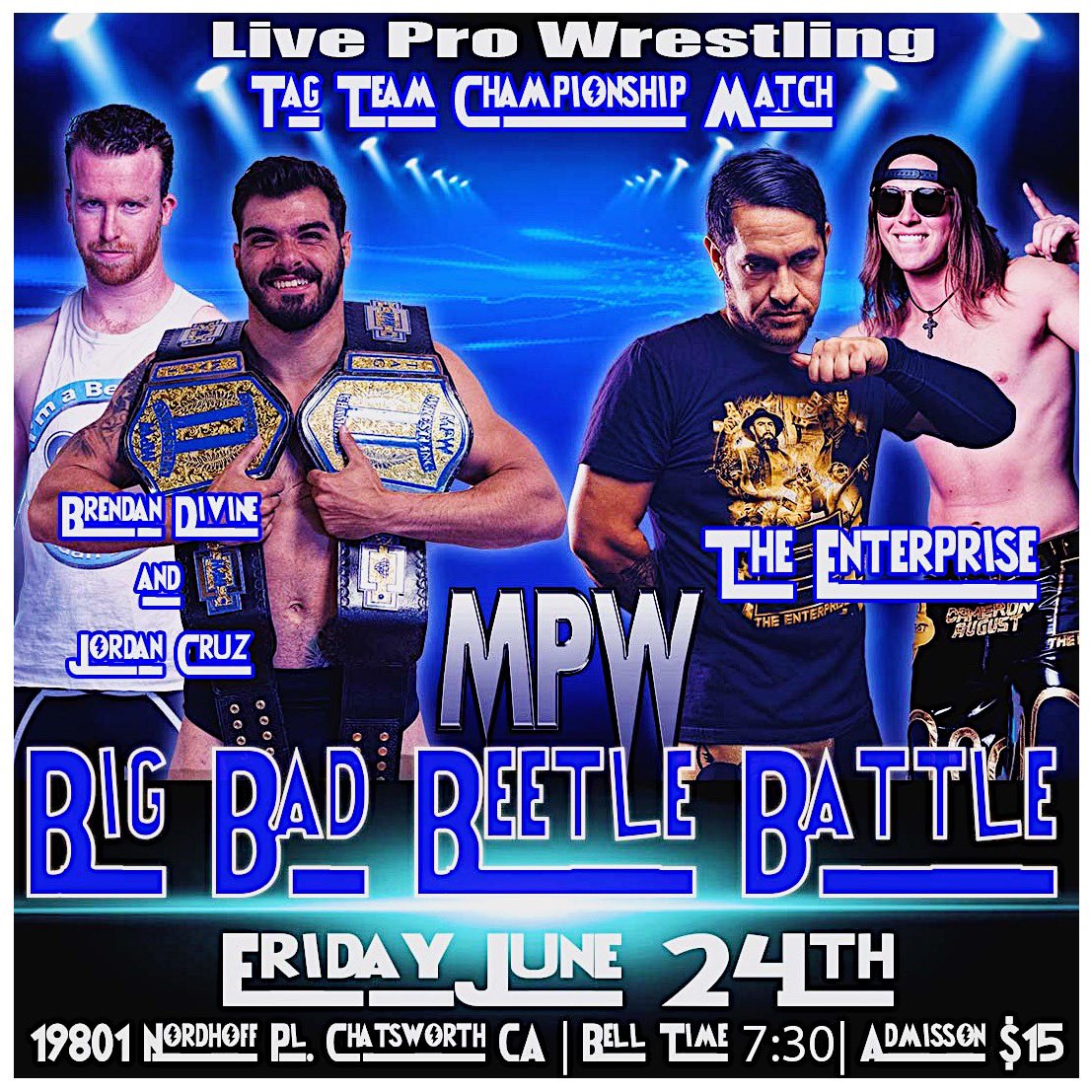 MAIN EVENT
The Enterprise (Cameron August/Jeff Roth) DEFEATS Brendan Divine/Jordan Cruz
NEW CHAMPIONS CROWNED
Another match that was, for all intents and purposes, destined to end as it did from the onset, Jordan Cruz entered the ring with both tag titles on his shoulders with no regard for his partner, Brendan Divine. Divine, who was met with the usual adulation of his Believers, was ready to fight, but per every match these unlikely partners have had since they were crowned champions he was faced with the added hurdle of Jordan Cruz's ego.
The sad thing to witness in this and every match they wrestled as, and remains, the fact that they could have been truly great. Both gifted athletes, both with a flair for tag team wrestling — both absolutely breathtaking in the ring when they got on the same page…they had far more in common than they wanted to see. There is little to no justification for Jordan Cruz's attitude problem, but one can't help but wonder if there was ever a way this could have, somehow, some way, been made to work.
Ultimately, we can only be grateful that we were witness to a reign as long as they had. Put out by Divine's attempts to help his partner and win the match, unwilling to trust when an accidental blow to Cruz by Divine botched an attempt at victory, Cruz finally let his partner have it. This much, at the end of the day, has an explanation: the two men didn't get along, and sometimes enough is enough — regardless as to who is right or wrong.
However, when the Enterprise scored the pinfall, Cruz literally handed the belts to the newly minted champions. This, readers, is not the act of a champion or an athlete of any merit.
This was the act of a fool.
So while the Enterprise celebrated their victory, and Divine was left abandoned and battered by the man who was supposed to be his partner, fans were left wondering what could possibly be next.
The Enterprise now holds two of the three titles in Millennium Pro Wrestling, and the California Classic is fast approaching…could this display of dominance be a sign of things to come?
FOR YOUR CONSIDERATION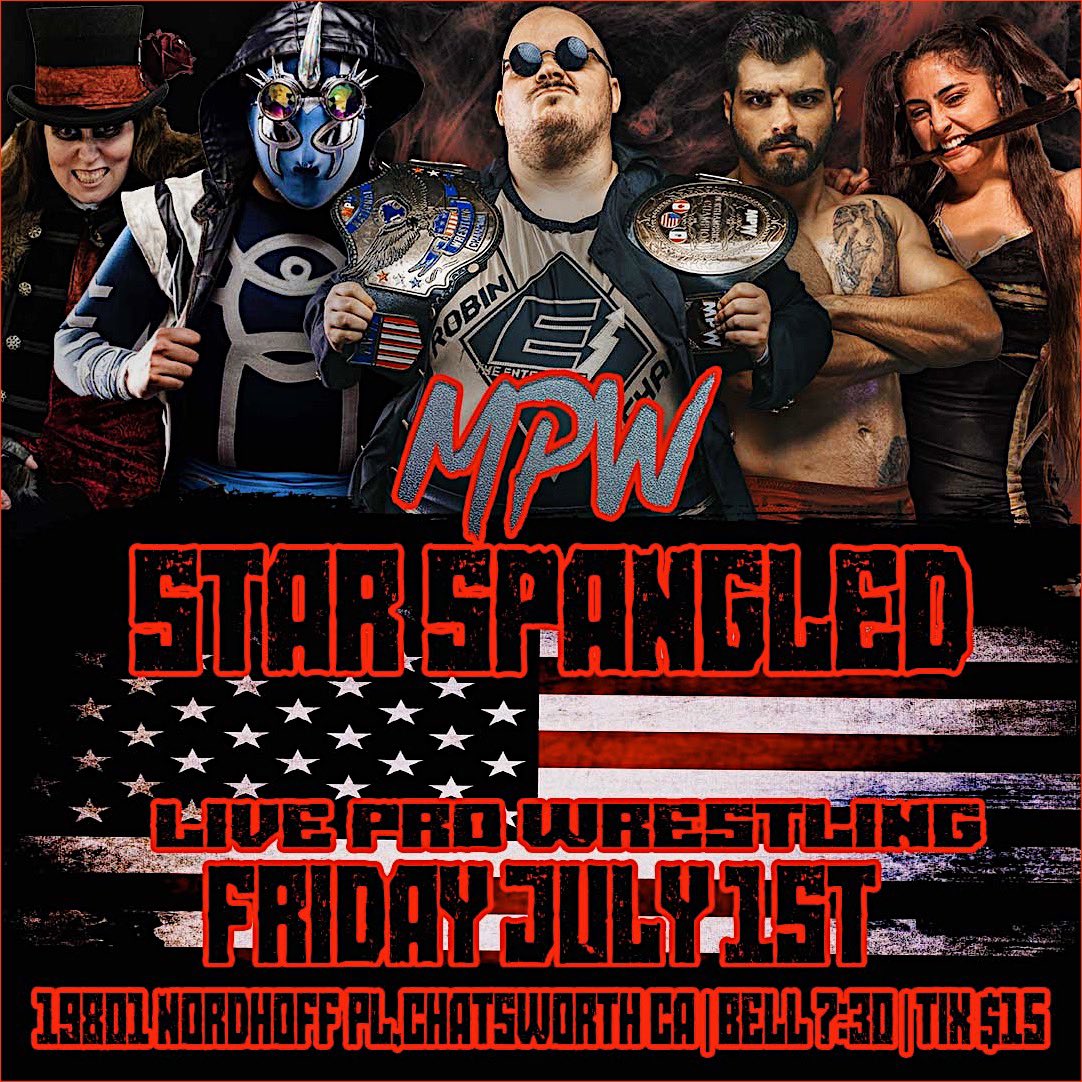 This coming Friday at Star Spangled, the card is absolutely stacked not merely with the Trios Match of Bucio, Super Beetle, and the Rebel Storm against J2, Robin Shaw, and Leo Canedo, but also with a nontitle match pitting Miggy Rose against newcomer to MPW, Chris Nastyy. Nastyy, who has been making waves in other local promotions like Pandemonium, who we have covered previously on this site, is a renegade in his own right. It's one thing he and Rose have in common, but who will prevail? Be there next week to find out.
That about wraps it up for the return of Super Beetle — and the return of the X-Press to its show coverage! Did you enjoy this return to form? Excited for future shows? Let us know with a comment, here or on our Twitter!
Also let us know what else you'd like to see! Circumstances may affect the regularity of these write ups, but the X-Press will continue to find ways to cover the action. What other avenues of coverage might you like to see? Audio, video — Twitter spaces, podcasts, sit down interviews? Share your thoughts, and maybe your ideas will appear as a new feature of the X-Press!
Until next time, remember that it's a rough and tumble world out there. Take care of yourselves, ladies, gentlemen, and all other configurations of being.
We'll see you soon.