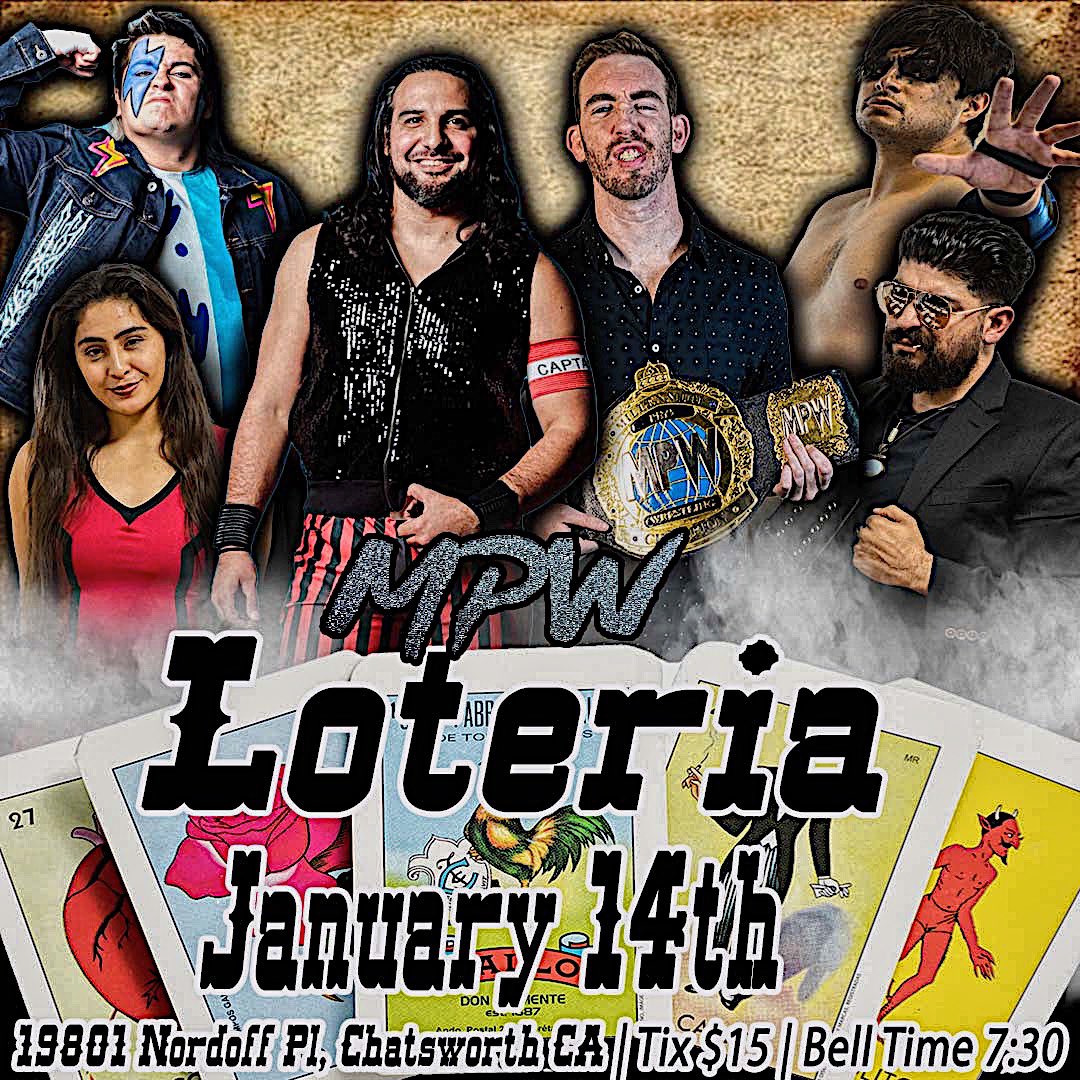 Lotería is the name of the latest MPW event—but what is a lotería? It's not just the Spanish word for 'lottery,' but rather its own game of chance. In function, it's very similar to traditional Bingo, save that it uses a deck of cards rather than ping pong balls with numbers. Either way, it's all about the luck of the draw – the card you're dealt, and the cards that are called.
You can't control either one…all you can do, to win the day, is pay close attention, and be the fastest to call out when you realize you've got a win.
This past Friday, in a card slated to be all that and more, the stakes were changed yet again. In a move that is, unfortunately, becoming typical for the new MPW World Champion, Danny Divine was a no-show for the event where he was slated to take on an opponent in a world title contest – with the number one contender to be chosen by the MPW fans. Alas, the general manager of MPW had other plans…and, ultimately, what we got may have been even better than what we were promised.
Were the athletes of MPW quick enough to call their shots and win the jackpot? You're about to find out. Spoilers ahead for Lotería…let's do this.
**********

MPW Tag Team Title Match
M.O.B. (Diego Valens/Michael Hopkins) DEFEATS Sexy Fabrizio/Leo Canedo
Prior to the match, the champions entered the ring with their manager, and the new general manager of MPW, Bryan Carter. Carter had a lot to say regarding his clients and his responsibilities – and, namely, about the advertised world title main event. Dissatisfied with the idea of a fan poll to pick a number one contender, Carter announced he'd be scrapping the results – which favored Johnnie Robbie – and turned the three way poll into a triple threat main event, with the victor becoming number one contender for the MPW World Championship at next week's show, Destiny Returns.
With that, the challengers made their entrance to the adulation of the audience. Fabrizio, as ever, received a raucous and warm welcome from the crowd, while Canedo followed, almost unrecognizable in his presence. Last seen in an MPW ring back in September, the bright eyed and enthusiastic young scrapper has since matured into a focused and powerful competitor ready for his opportunity to prove himself, and cut an impressive figure as he made his way to the ring.
The match started with Michael Hopkins and Fabrizio in the ring, an early and compelling mat based contest. From their coordinated gear to their visible communication to their tenacity, Fabrizio and Canedo were an equally compelling team as they took the fight to the champions. It was enough to put the champions on edge, if their dirty tactics were anything to judge by: Diego Valens was not above a rake to the eyes of Canedo when both men entered the ring, and the M.O.B. took advantage of a distracted referee later on in the match to attack the challengers at ringside.
Unfortunately, it provided an advantage that let the champions prevail: after a long period of keeping Canedo trapped in M.O.B.'s corner and multiple instances of knocking waiting tag partners off the apron, the M.O.B. retained their titles by pinfall. Do not, however, count the team of Sexy Fabrizio and "Wild Thing" Leo Canedo. Based on the incredible chemistry and pure athleticism of the Wild Thing and the Sexy One, this is a team that could go the distance with a little more time and training to perfect an already incredible dynamic.
Bucio w/Dustin Daniels DEFEATS Miggy Rose
There are times in this business when one's journalistic integrity is tested by incredible athletes with miserable attitudes – and tonight was no exception as Miggy Rose and Bucio locked up in the middle of the ring, with Dustin Daniels at ringside to support his partner. Fans of MPW can all agree that Rose leaves something to be desired with his arrogance, his cheating, and his open disdain for the fans. He's a hard man to like – and even if you manage that feat, he's not even that kind to the rare few that cheer for him.
Over the last few months, however, there has been a subtle shift in the way Rose does business: while he's still arrogant, disdainful, and a dirty player, the fact remains that he just…fights dirty. More and more, he relies less and less on playing fast and loose with the rules, and out-performs many other members of the MPW roster leaning more and more heavily on sheer, undiluted talent.
He won't be winning Mr. Congeniality any time soon, but when he's opening matches like this one against Bucio with an intelligent and dexterous mat game to keep the high flyer grounded, he's likely going to be back in the title picture before long.
This match was no exception as Rose kicked out of one pinfall attempt after another, even when the quick and agile Bucio broke free of the submission gambit and took to the air again. Not even a suicide dive over the ropes could put Rose down, and soon he had control of Bucio after catching him with a blow on the ring apron. The tag team specialist, particularly dazed at one point, went looking for a tag that would never come, and a double clothesline alone may have been the only thing that kept Bucio from falling to the machine that is Miggy Rose.
It paid off in the end, with Bucio gaining a pinfall victory and leaving with partner Daniels to celebrate. Rose, alone in the ring with his defeat, was visibly disturbed by this latest loss – so much so that he took to the microphone to address his recent sketchy win/loss record before the crowd in a surprising moment of frank and honest self-evaluation.
…and then Bryan Carter showed up.
Reminding Rose of his "prize" from the Naughty Or Nice event – a match with the behemoth Eric Watts – Carter declared that Rose would be receiving his alleged reward next week at Destiny Returns. Rather than quail at the challenge, Rose remained relatively steady, if a little uncertain.
Perhaps Miggy Rose will never be the most popular man in the locker room, but from the looks of things, we just might be seeing a change in him for the better…a change that could lead to great things in his future.
J2 w/Auntie Hydie DEFEATS Rebel Storm
From the moment this match was announced, the stakes were high: before his subjugation by Auntie Hydie, J2 was the Rebel Storm's best friend and tag team partner. Tonight, the gamble Storm was taking was on the bonds of brotherhood: could he free his friend from the Void's control?
The match began trying to answer precisely this question as Storm tried to reason with J2. He didn't want to fight his friend…but when J2 wouldn't listen to reason, Storm stayed the course, unafraid to put his former partner down. While his tried and true airplane spin had little effect, he persevered – as he's gone on record saying, he intends to reclaim his friend's freedom, "no matter the cost."
If that meant beating the hell out of him, so be it – and Rebel pulled no punches in this match. To his credit, while others have come closer to defeating the thrall of Auntie Hydie, few have been as absolutely lacking in fear as the leader of the Storm Chasers. Where J2 had the power of the Void, Storm had speed. Where J2 had the inhuman endurance of one stripped of all humanity, Storm had conviction.
This came to a head when J2 was ready to go in for the kill. Ceasing to fight, Rebel pleaded with his friend as Hydie shouted orders at ringside. Begging J2 to wake up, insisting that he knew J2 was still in there somewhere, Rebel fought with words and passion while Hydie screeched for the Rebel Storm's in-ring destruction.
For the first time since his enslavement, without undue outside influence on his master…J2 faltered.
The cheer rang out from the crowd: Come Back, J2. As the fans cried out, as Rebel Storm pleaded, J2 doubled over and clutched his head in agony and confusion.
For the first time, we saw a glimmer of hope as J2 finally, visibly began to fight.
Unfortunately, it wasn't quite enough, and ultimately Storm was defeated by pinfall. However, as J2 left the ring, he stopped for a long moment to consider his helmet…the symbol of the Playmaker…before he followed Hydie into the locker room.
While the Rebel Storm was left in the ring, defeated, the light we saw in the ring took residence in the eyes of the Rebel Storm while the fans encouraged him.
Don't Give Up. The Rebel Storm is taking this advice to heart, and in an exclusive interview with the X-Press later that night revealed that he has no intentions of stopping his quest.
(Editor's Note: The following quote is transcribed as follows, per the request of the Rebel Storm out of concerns that he be properly represented in the public eye.)
"I'M GONNA DO MY HOMEWORK, AND I'M GONNA GET MY BUDDY BACK." Storm told the X-Press. "NO MATTER THE COST. I'M GONNA STUDY, LEARN – WATCH A FEW HORROR MOVIES! I MEAN, AUNTIE HYDIE COULD BE FREDDY KREUGER, RIGHT?"
Will the Rebel Storm's studies produce fruit? We here at the X-Press will follow his progress and keep you posted on any future developments.
Robin Shaw w/Cameron August DEFEATS Dustin Daniels w/Bucio
In a classic David versus Goliath, Dustin Daniels was in for an impossible challenge, going up against the muscle of the tag team known as the Enterprise. With partner, Cameron August at ringside, jaw jacking with whoever was within his line of sight, Robin Shaw had plenty of backup to keep the scales tipped in his favor. While Daniels did have his own partner ringside for moral support, the likelihood that he would allow Bucio to sully his victory with undue interference, his presence would potentially negate the potential for any dirty tricks on the part of August.
Still, there is the matter of pinning Robin Shaw…and Shaw's size alone is enough to make even the toughest competitor feel as if they're being ganged up on.
True to form, Shaw began the match with a use of brute force, featuring chops that would make Ric Flair proud – and made the rest of the crowd cringe with the sound of flesh striking flesh. Without shame, this reporter can say that it was a little harder to catch one's breath after simply hearing the blow. One can only imagine what Daniels was experiencing as its victim.
Shaw continued in this vein, manhandling Daniels like a child tossing a doll around. To make matters worse, August did later insert himself into things with a ringside assault on Daniels that was broken up by Bucio. For a brief moment, the tides turned after Daniels escaped a skull crushing submission from Shaw. Rallying to try and chop down the redwood that was Shaw, the bigger man turned the tides with precious little trouble. Daniels managed one more rally with a big clothesline, but the match soon devolved into a four man brawl, with Shaw claiming victory by pinfall.
The blows, however, just kept coming. After the Enterprise took their leave, a dejected and visibly frustrated Daniels took his rage out on his partner with a shove. Grabbing a microphone, Daniels apologized, but mourned his recent losses with open aggravation over one loss after another.
Bucio pointed out then that he won his match that night – and his partner took umbrage.
The rising tensions we've been seeing week after week from the duo finally came to a head then in a verbal altercation that led to a challenge: next week, at Destiny Returns, it'll be Bucio versus Dustin Daniels. The pair stand clearly at odds, with Bucio going so far as to say, in the ring, that he'll prove that he's the Shawn Michaels of Full Send, and that Daniels is the Marty Janetty of the pair. However, in a post-show exclusive with the X-Press, he confessed that he was not untroubled by the falling out. Absently rubbing a battered pectoral muscle, he laughed and said he wasn't sure if he was feeling pain from a chop to the chest, or a chop to his heart.
Let's hope that the dynamic duo of MPW can settle their differences next week – otherwise, we could see the entire tag team division change forever.
Main Event
NUMBER ONE CONTENDER MATCH
Ray Rosas vs Johnnie Robbie vs. Alejandro Mauricio Fernandez
Ray Rosas DEFEATS Robbie & AMF by pinfall
With entrances made, Robbie was on Fernandez like a shot – and promptly pulled off the other man by her mentor. A move to restore order, however, devolved into a contest between student and teacher. All bets were off in the face of a title shot, and when Robbie proved she was ready to put aside friendships for titles, Rosas was right there with her.
From there, the triple threat matched devolved into the expected controlled chaos this type of contest promises. Unusual bedfellows are common in triple threats, however the arrogant Alejandro Mauricio Fernandez was a lone wolf as Robbie and Rosas took more than one opportunity to team up against him before resuming their battle to see if the future of the title lay in the hands of the old guard, or the next generation. Fernandez was the victim of an early double suplex by Rosas and Robbie, and retaliated with a hair mare on Robbie. He even went so far as to spit in Robbie's face.
He did, however, live to regret this decision when all three competitors found themselves caught in a strange, tangled mass that resulted in a power bomb and a superplex from the top rope, with precious little means of determining who was doing what. Other notable moments were a string of pinfall attempts by all three competitors within a span of roughly ten seconds, Fernandez blasting both Robbie and Rosas in two opposite corners of the ring, and a figure four attempt that was busted up by Ray Rosas.
However, the question was answered, inevitably, by a pinfall: the old guard won the day, with Ray Rosas claiming victory by pinfall. It was bittersweet, as Rosas was robbed of his shot at Divine last week with an empty countout victory over Danny Divine. Rosas was keenly aware of this, however, and made a point of claiming a microphone to remind the crowd that, had things played out as intended, it was highly likely the show would have ended with Robbie, a current nominee for Socal Uncensored's 2021 Rookie of the Year, as the new MPW World Champion. It was an incredible show of respect, and to the pleasure of the audience, Rosas and Robbie embraced to put the fight behind them and reaffirm their friendship.
Rosas followed with a few warning words to general manager Bryan Farter — excuse me, Bryan Carter, Rosas made a similar mistake that night — and to Danny Divine, promising him hell next week when Rosas would have his shot at revenge against Divine.
For Your Consideration
The card for Destiny Returns is already filling up. Thus far we have Miggy Rose vs. Eric Watts, Dustin Daniels vs. Bucio, and in recent days a new six man tag match has been announced. To the relief and joy of MPW fans and athletes across the board, Brendan Divine is healthy and cleared to wrestle as of next week, where he will go up against all three members of the Void: Auntie Hydie, Artorius, and J2.
His partners? One will be, to no one's shock, the Rebel Storm, with a third competitor yet to be announced. Who will join the leaders of the Believers and the Storm Chasers to combat the threat of the Void? Comment with your guesses and your leads — I'll follow up on the good ones. The X-Press leaves no stone unturned when it comes to a story, folks.
That said? Destiny calls…here's hoping you join me in answering this coming Friday.